THE PLAYERS returns from March 10-16
by Joseph Cartolano
March 9, 2020
726 views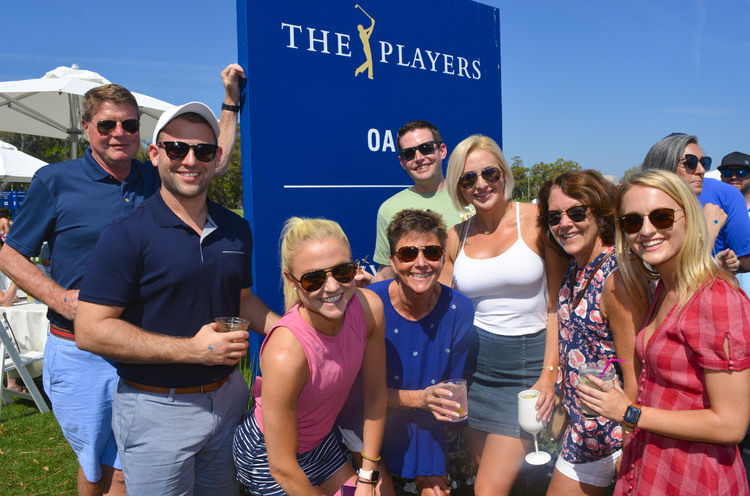 This week, be ready for Jacksonville's best golf tournament of the year. THE PLAYERS Championship will be held from Tuesday March 10th-16th. This weeks schedule is listed below.
Tuesday, March 10 – Military Appreciation Day
Entries open at 7:30 a.m.
Charity of the Day: K9s for Warriors
9 a.m. - Rob Strano Golf Clinic for the Deaf and Blind at Dye's Valley Golf Course - Rob Strano will host a unique clinic which offers students at the Florida School for the Deaf and Blind golf instruction in sign language. This is the only known golf clinic of its kind.
10 a.m. – Patriots' Outpost Opening Ceremony at the Birdies for the Brave Patriots Outpost presented by United Rentals - In addition to remarks by Rear Admiral Gary Mayes, Navy Region Southeast Commander, the program will include: Performances by the Jacksonville Children's Chorus, Military pageantry by the Nease High School Navy JROTC, Commemoration of the 75th anniversary of the end of World War II and a Tribute to Gold Star families.
9:30-11 a.m. - PGA TOUR Wives Association and Community PedsCare® event in Stadium Village (located in THE PLAYERS Welcome Experience). The PGA TOUR Wives Association and THE PLAYERS will host children and families from Wolfson Children's Hospital and Community PedsCare for a fun-filled morning at Stadium Village.
9:30 a.m. - 1:30 p.m. - First Tee Girls Event with Cheyenne Woods and Morgan Stanley: a local First Tee chapter will bring 25 girls out to Morgan Stanley's 18th hole hospitality venue for a fireside chat with Cheyenne Woods to talk about golf and financial literacy. Following the event, the girls will visit the Eagles for Impact tent and read books with the students from Mayport Elementary during their field trip.
12:30 p.m. – Mayport Elementary kids take a field trip to Morgan Stanley's Eagles for Impact Venue: students from Mayport Elementary will visit Morgan Stanley's Eagles for Impact tent to read with volunteers and choose books to take home. Cheyenne Woods will also be joining to read with students and take a few swings in the simulator.
2:30 p.m. – The Chainsmokers media scrum outside the media center.
5 p.m. - Military Appreciation Day Ceremony, followed by The Chainsmokers Concert (Island Green 17th Hole) - The 2020 Military Appreciation Ceremony at THE PLAYERS will include pageantry by military personnel, a flyover by 125th Fighter Wing, a National Anthem performance by Deloris Quaranta, Founder, Northeast Florida Women Veterans, an enlistment ceremony conducted by US Army Major General Antonio Aguto, Jr., and a keynote address from Jacksonville native Vice Admiral P. Gardner Howe III, (retired), U.S. Navy. The Chainsmokers concert immediately follows the ceremony. Fans are encouraged to arrive by early afternoon.
Wednesday, March 11
Entries open at 7:30 a.m.
Practice Day for professionals
Charity of the Day: The First Tee
All day: THE PLAYERS Championship Caddie Competition in Memory of Bruce Edwards - Closest to the pin competition at the 17th hole amongst all of the caddies.
All day: Dreams Come True VIP Day at THE PLAYERS - Wednesday at THE PLAYERS is designated as "Dream Day." From 11 am to noon, two families will be treated to an inside-the-ropes experience on the 17th tee box, including meet-and-greets and autograph opportunities with TOUR players.
8-10 am: THE PLAYERS First-timers press conference - PGA TOUR players who are participating at THE PLAYERS Championship for their first time meet in the quick quotes area located on the lawn behind the Perch for a one-of-a-kind group press conference, and PGA TOUR Commissioner Jay Monahan will present each player with Tiffany & Co. first-timers cufflinks.
9:30-10 am – Phil Mickelson reunites with his friend Rue in the Kids Zone presented by Nemours Children's Health System: Phil Mickelson will be on site at the Kids Zone presented by Nemours Children's Health System to reunite with Rue, a childhood cancer survivor and family friend who is a Nemours ambassador. At the event, he will also sign autographs for children and teens who gather in the Kids Zone.
7:30-9:00 am - FCA Golf JAX Breakfast with the Pros (Sawgrass Marriott) - The Fellowship of Christian Athletes (FCA) has hosted a breakfast at THE PLAYERS for 35+ years as a way to bring the Northeast Florida golf community together with PGA TOUR professionals.
4:00-5:30 p.m. - The Tesori Family Foundation All-Star Clinic (Sawgrass Country Club) - The Tesori Family Foundation was founded in 2009 by Paul Tesori—former PGA TOUR player and current PGA TOUR caddie for THE PLAYERS 2018 champion Webb Simpson—along with his now wife Michelle, to give back to those in need in the Northeast Florida community. The All-Star Clinic invites children with special needs to a golf clinic at Sawgrass Country Club, and it has since expanded to other PGA TOUR events as well, serving more than 200 kids annually.
5:00-8:00 p.m. – THE PLAYERS Tailgate at PGA TOUR Superstore parking lot - swing by THE PLAYERS Tailgate for food, music, interactive activities, giveaways and the chance to meet with PGA TOUR pro Patrick Rodgers and potentially several others. 4906 Town Center Pkwy #300, Jacksonville, FL 32246
Thursday, March 12
Entries open at 7:15 a.m.
First round of competition begins at approximately 7:35 a.m. (threesomes off of No. 1 and No.10)
Charity of the Day: Wolfson Children's Hospital
Friday, March 13
Entries open at 7:15 a.m.
Second round of competition begins at approximately 7:35 a.m. (threesomes off of No.1 and No.10)
Charity of the Day: Book Trust
Saturday, March 14
Entries open at 8:00 a.m.
Third round of competition begins at approximately 8:30 a.m., depending on the size of the cut (twosomes off No.1)
Charity of the Day: Ascension St. Vincent's Foundation
Championship Sunday, March 15
Entries open at 7:15 a.m.
Final round of competition begins at approximately 7:45 a.m., depending on size of the cut (twosomes off No.1)
Charity of the Day: Nemours Children's Health System
7-8 a.m. - Chapel Service (Stadium Village located inside THE PLAYERS Welcome Experience) – nondenominational faith service
6:00 p.m. – Closing Ceremony (Lower Clubhouse Lawn)
Related Articles