The Chainsmokers Perform at THE PLAYERS Military Appreciation Day
by Joseph Cartolano
March 6, 2020
891 views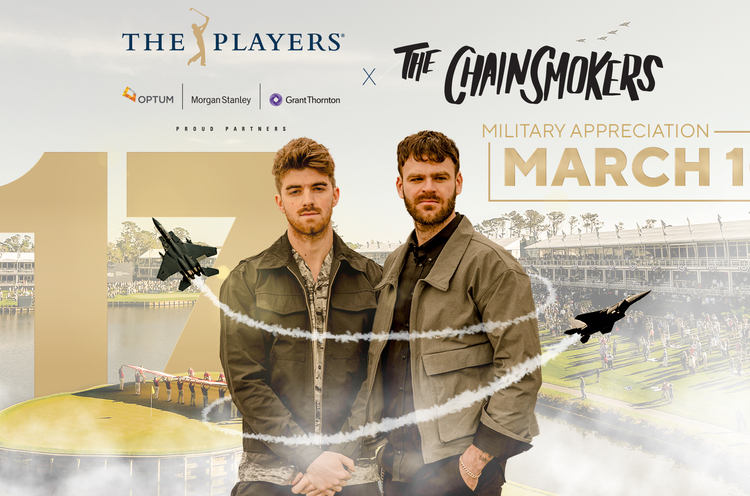 PONTE VEDRA BEACH, FLA. – THE PLAYERS Championship, which returns to TPC Sawgrass in less than 35 days (March 10-15), has a long-standing commitment to hosting and honoring men and women of the U.S. Armed Forces and their families. The 2020 tournament will once again offer a strong lineup of activities for military members, veterans and their families.
"Jacksonville has the largest military presence and veteran population in Florida and is home to some of the largest Navy bases in the country," said Executive Director of THE PLAYERS Jared Rice. "It is incredibly important that we embrace our military personnel and their contributions to our community and our country. They make daily sacrifices in order to protect and preserve the freedoms we enjoy, and we look forward to honoring them at this year's tournament."
THE PLAYERS provides complimentary admission to active duty, military retirees, military reserve, National Guard, military spouses and accompanied dependents with valid credentials and identification. Veterans are provided an exclusive offer, permitting them to purchase one (1) ticket for themselves and one (1) ticket for a guest at a discounted rate per day ($20/each - Tuesday and Wednesday; $30/each - Thursday through Sunday).
All military personnel must verify their military status by going to THEPLAYERS.com/tickets and clicking on "military admissions." Upon verification, a voucher will be issued for each day that must be printed and redeemed on-site at the Love, Nicklaus, and Couples entries. Valid military identification is required.
NOTE: Parking is not included in the complimentary, or discounted, ticket for military. Parking passes are required each day, Tuesday-Sunday, and can be purchased at THEPLAYERS.com/parking. Parking will not be sold on site. Tuesday & Wednesday parking costs $15 per day (plus tax) and Thursday- Sunday costs $40 per day (plus tax). As in years past, THE PLAYERS will offer fans free parking passes if they carpool with four or more people. These passes are limited and must be downloaded in advance. Rideshare will continue to be one of the easiest modes of transportation, with drop off and pick up located at the Couples Entry off of ATP Boulevard, just steps from the 15th hole at TPC Sawgrass.
Tuesday, March 10 – Military Appreciation Day
Each year, THE PLAYERS designates the Tuesday of tournament week as Military Appreciation Day, complete with a ceremony of nationally-ranked dignitaries, military pageantry and a culminating concert. This year, for the first time in tournament history, a pop/EDM artist will perform at the Military Appreciation Ceremony and Concert – Grammy Award winning artist The Chainsmokers will take the stage on Tuesday, March 10, with the concert taking place on the world-famous island green 17th hole shortly after 5 pm.
The Chainsmokers were selected because of their strong connection to the military. They have hosted and supported a number of military outreach efforts, including a concert for deployed military members who were unable to be with their families for the holidays.
Hospitality: Weeklong access to the to the Birdies for the Brave® Patriots' Outpost presented by United Rentals
Throughout tournament week, all active duty, Reserve military members, military retirees, veterans and their dependents will have access to the Birdies for the Brave ® Patriots' Outpost presented by United Rentals, a hospitality tent reserved exclusively for the military which offers complimentary food, beverages and activities. Located near the tee at No. 16, the Patriots' Outpost is financially supported by United Rentals, THE PLAYERS volunteer leadership, the Red Coats, and Jacksonville-area companies and individuals.
THE PLAYERS will feature recognized leaders, military officials, athletes and champions in the Birdies for the Brave Patriots' Outpost during tournament week. A series of meet-and-greets will be hosted each day, where attendees can meet and interact with these leaders, resource experts and military officials. A schedule, spotlighting each leader, will be announced in the coming weeks.
During the 2019 tournament, THE PLAYERS hosted roughly 20,000 military service men, women and family members in the Patriots' Outpost.
About The Chainsmokers
Grammy Award winning and Billboard Chart topping artist/producer duo, The Chainsmokers, have evolved into a dominating musical force with a diverse repertoire of songs that have led them to become one of music's hottest recording artists.Comprised of Alex Pall and Drew Taggart, their signature sound deftly reaches across indie, progressive and pop realms and has seen them develop some of the biggest breakthrough songs over the course of the last few years. In 2016, the group catapulted to worldwide stardom with 3 Multi-Platinum certified hits-
"Roses," featuring Rozes, "Don't Let Me Down" featuring Daya and "Closer," featuring Halsey, which went on to become the longest running #1 single of 2016 on the Billboard Hot 100 chart. In April of 2017, the group released their debut album via Disruptor/Columbia Records titled Memories...Do Not Open. The album, which has been certified Platinum, debuted at #1 in the U.S. on the Billboard 200 chart and produced Multi-Platinum certified smash hits "Paris" and "Something Just Like This" featuring Coldplay.
In December 2018, The Chainsmokers released building album Sick Boy, which has accumulated over 1 billion worldwide streams to date and includes the Platinum-certified single "This Feeling," featuring Kelsea Ballerini and "Side Effects," featuring longtime collaborator Emily Warren. Most recently the duo has released new music to comprise their latest building album, titled World War Joy, which includes "Push My Luck," Gold-certified single "Takeaway" with ILLENIUM featuring Lennon Stella, "Call You Mine" featuring Bebe Rexha, Gold-certified Top 10 single "Who Do You Love" featuring multi-Platinum band 5 Seconds of Summer, "Kills You Slowly" and "Do You Mean" featuring Dolla $ign and bülow. Additionally, the duo has been nominated for a 2019 American Music Award, a 2019 MTV Video Music Award, multiple 2019 Teen Choice Awards and was honored with two wins at the 2019 Billboard Music Awards for Top Dance/Electronic Artist and Top Dance/Electronic Album for Sick Boy. Fans can catch The Chainsmokers live this fall headlining their "WORLD WAR JOY" North American arena tour. The duo will also maintain their extended Wynn Nightlife Residency in Las Vegas and will continue releasing music and touring across the globe throughout 2019 and beyond.
About THE PLAYERS Championship
THE PLAYERS Championship annually combines the strongest field in golf with the world-class venue that is THE PLAYERS Stadium Course at TPC Sawgrass. Morgan Stanley, Grant Thornton LLP and Optum® are the exclusive Proud Partners of THE PLAYERS. Proceeds from THE PLAYERS benefit Northeast Florida charities and have totaled more than $100 million since it began in 1974 and moved to Ponte Vedra Beach in 1977. In 2019, THE PLAYERS generated a record $9.25 million for local charities. For more on THE PLAYERS, visit THEPLAYERS.com. For more on the surrounding areas, visit floridashistoriccoast.com or visitjacksonville.com.
Related Articles