X106.5 BBQ With Jimmy Eat World & Taking Back Sunday
by Joseph Cartolano
May 15, 2019
101 views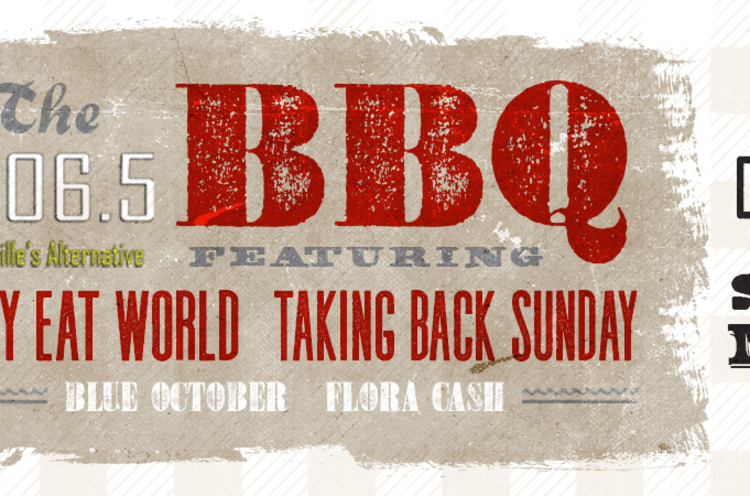 This Sunday, X106.5 Jacksonville's Alternative will host its BBQ featuring Jimmy Eat World and Taking Back Sunday, with Blue October and Flora Cash at The Amp on Sunday, May 19! Fans of Jimmy Eat World should attend, since this date will be their ONLY FLORIDA SHOW!
Tickets are on sale NOW!
TICKETS:
$56.50 – Standing Pit, Level 100 and Level 200
$46.50 – Level 300 and Obstructed
$36.50 –General Admission Sections 301 and 304
Doors 5:00pm / Show 5:20pm
Jimmy Eat World has released nine studio albums and have played sold out shows and festivals all over the world. The band will be hitting the road this summer for a co-headline tour with Third Eye Blind and special guest Ra Ra Riot. The 35-city Summer Gods Tour, will kick off June 14 at the Greek Theatre in Los Angeles, with dates in Chicago, Atlanta, Houston and more, before wrapping August 3 in Irvine, CA at FivePoint Amphitheatre. Just last year, the band released two additional tracks "Love Never" and "half heart." Jimmy Eat World consists of Jim Adkins, Zach Lind, Tom Linton and Rob Burch. For more information, visit http://jimmyeatworld.com
If you can't believe that Taking Back Sunday have been around for 20 years, you're not alone, because they can't either. Although the pride of Long Island have had a handful of member changes over the years, the current lineup of the band -- vocalist Adam Lazzara, guitarist John Nolan, drummer Mark O'Connell and bassist Shaun Cooper -- have all been there since the beginning. From the band's landmark 2002 debut Tell All Your Friends to their most recent full-length, 2016's Tidal Wave, Taking Back Sunday have evolved from a key player in the early 2000s emo scene to a genre-defying rock band who have three gold albums without ever ceasing to push the limitations of their sound. This fact is evidenced on Twenty, a 21-song collection released in January 2019 via Craft Recordings that spans all seven of their full-lengths and solidifies them as an act with a catalog that will undoubtedly outlive them.
Lone Star State rockers Blue October emerged during the mid-'90s, delivering an emotionally charged amalgam of heart-heavy post-grunge and slick modern rock. They found favor in 2006 with their platinum-selling fourth long-player, Foiled, which featured the chart-topping singles "Hate Me" and "Into the Ocean," and built on that success via a succession of albums that saw them go from radio-ready, post-grunge act (2011's Any Man in America) to stadium-sized synth rockers with an unabashed flair for the melodramatic (2016's Home).
Husband-and-wife duo Flora Cash craft atmospheric indie folk born from a cross-Atlantic courtship. In 2012, the pair met on an online social sound platform and struck up a musical connection, leading Shpresa Lleshaj to travel from Stockholm to Minneapolis to meet Cole Randall in person. They returned to Sweden together and immediately began work as Flora Cash. In 2017, their full-length debut, Nothing Lasts Forever (And It's Fine), attracted widespread tastemaker praise and acclaim from Noisey, Paste, Wonderland Magazine, Elmore Magazine and The Line of Best Fit, to name a few. The quiet grind paid off as the single "You're Somebody Else" went viral, clocked 7 million streams, topped HypeMachine, and attracted the attention of RCA Records.
Related Articles