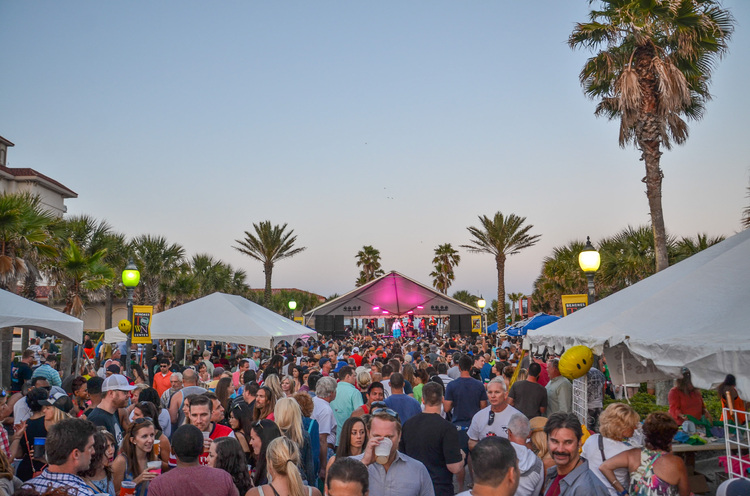 This Saturday, be sure to come down to Neptune Beach to celebrate the 33rd Annual Dancin' In the Street. All events are scheduled from 11am-9:30pm.
After 33 years of partying in the streets, the iconic Beaches Town Center day festival is all grown up. Complete with a stellar lineup of Duval's best food trucks, Dancin' in the Street will also be serving up some of Jacksonville's best craft beer. Rounding out the festival is a stacked set of local entertainment from a variety of bands.
The festival's official sponsor, the Beaches Town Center Agency, has invited artists from all over the city to participate in the Art Show, which will include painting, jewelry, hand crafted glass, pottery, wood carvings and more. The Kids Zone area, sponsored by Amazing Amusements, offers a wristband for unlimited play on the enormous Spider Mountain, the Ferris Wheel, golf course and a large bouncer combo with slide.
The following bands will provide entertainment for this year's DITS:
Ocean Stage
| | |
| --- | --- |
| 12:00 | MillaJohn's Blue Soul |
| 1:00 | Project X |
| 2:00 | Firewater Tent Revival |
| 3:00 | Lucky Stiff |
| 4:00 | Bad Habits |
| 5:00 | Charlie Walker |
| 6:00 | Ramona Quimby |
| 7:00 | Austin Park |
| 8:30 | Trail Driver |
Orange Street Stage
| | |
| --- | --- |
| 11:30 | Amy Hendrickson |
| 12:30 | Sangria |
| 1:30 | Hensley |
| 2:30 | Solar Tide |
| 3:30 | DDT |
| 4:30 | 9E |
| 5:30 | Honey Hounds |
Trail Diver, Austin Park, Ramona Quimby, Charlie Walker, Bad Habits, Firewater Tent Revival, Project X, MillaJohn's Blue Soul, Lucky Stiff, Honey Hounds, 9E, DDT, Solar Tide, Hensley, Sangria, and Amy Hendrickson.
Patrons will be fed by the following Food trucks: Burnt Ends, Dagwood, Funkadelic, Wrust Girls, Kona Ice, Joseph's Pizza, and Sable Coffee
For anyone attending this festival be sure to drop on by Lemon Bar for their annual Dancing in the Courtyard. If you need to take a break from DITS, Lemon Bar will expand into the Sea Horse Hotel courtyard for an all day party. This year, a special performance by the Mosquitos happens at 7:30pm. Be sure to attend and enjoy a good time.
Parking is limited, so attendees are encouraged to walk, bike or ride the trolley. Pets, skates, skateboards, bikes and coolers are not allowed in the festival area. No outside beverages allowed in festival area.
Put on your dancing shoes and head on down to Neptune Beach for Dancin in the Street!
Related Articles