Jacksonville Food & Wine Festival This Sunday
by Joseph Cartolano
February 5, 2020
223 views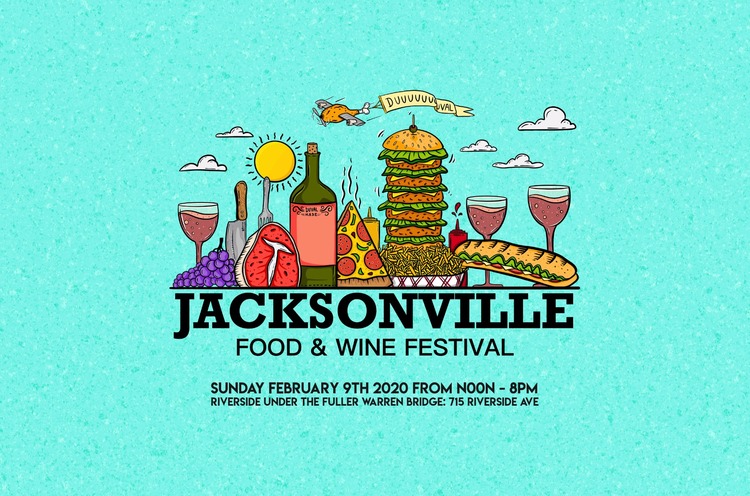 This Sunday, Northeast Florida food & wine lovers will embrace on the ultimate culinary journey in historic Riverside under the Fuller Warren Bridge (715 Riverside Ave) at the Inaugural Jacksonville Food & Wine Festival. The special event, to be held on February 9th 2020, will feature over 60 wines and more than 20 of Jacksonville's top restaurants. The event will be complimented by 40 plus local vendors, live art installations, five of the region's hottest bands, plus more.
This year's festival will have the following wines to taste from: Acrobat, Altos, Armida Winery, Banshee, Chalk Hill, Chalone Vineyard, EOS, Firestone Vineyard, Foley Johnson, Guenoc, Kuleto Estate, Lancaster Estate, Lincourt, Lucien Albrecht, Merus, Pickshaw Wines, Roth Estate, Sebastiani, The Four Graces, Three River Winery, Two Sisters, Roaring Meg, Mt. Difficulty, Grove Mill, Dashwood, Clifford Bay, Vavasour, Nieto Senetiner and more.
The food served at this festival are the following: Delish Kababs, Taylor's Tacos, Happy Grilled Cheese, Mother Truckin Pizza, Cacky Lacky's, Timotis Seafood Shak, Butt Hutt Smokehouse, Cugino's Sausage Company, Vucca Street Food, Le Petit Cheri Cupcakery, Cline's Custom Meat, Mavi Waterfront Bar & Grille, Cousins Maine Lobster, BB's Resturaunt, The Local, Brix Tap House, Well-Oiled Events, Khloe's Kitchen, Peterbrookes and more.
Music Line Up
12pm Chelsey Michelle
1:45pm Evan Michael & The Well Wishers
3:30pm The Band Be Easy
6:00pm Chris Thomas Band
Attendees will be able to purchase a VIP ticket and enjoy one complimentary sample from each participating restaurant as well as wine tastings throughout the afternoon. Admission to the general public will be free and guests will be able to purchase food and beverage directly from restaurants. We have thoughtfully planned a layout for the event which will foster a quality VIP experience as well as a fun for the whole family.
Proceeds from the festival will benefit the Wagoner Foundation – A local non-profit which supports the initiatives of The Salvation Army, Vets 4 Vets, Fur Sisters, Vets on Tap, The Jacksonville Jaycees, The Women's Army Corps Veterans Association, as well as numerous other groups here on the First Coast.
Related Articles