Blues Traveler Will Be Performing Live At The Ponte Vedra Concert Hall Sunday, March 29, 2015
by Charles Wagoner
February 17, 2015
85 views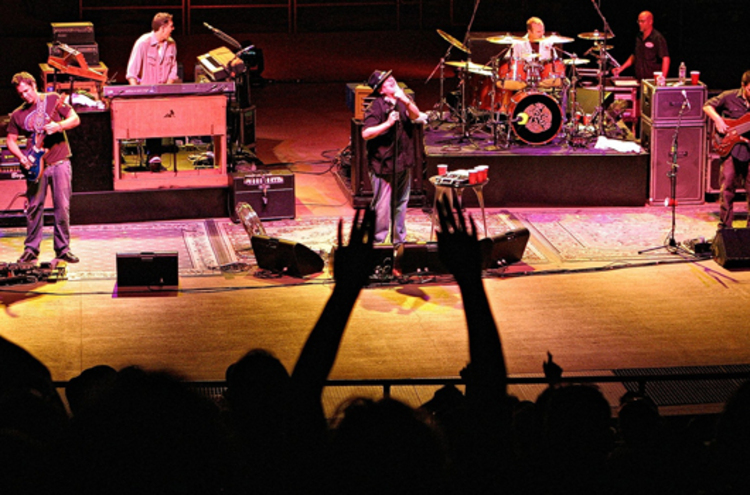 Ponte Vedra Beach, Fla. (February 16, 2015) — The Ponte Vedra Concert Hall welcomes back New York Blues- Rock quartet Blues Traveler on Sunday, March 29, 2015. Blues Traveler previously performed at the Ponte Vedra Concert Hall on October 28, 2012. Tickets for will go on sale this Friday, February 20 at 10 a.m.
The four original members of Blues Traveler, who have known each other since their early teens – John Popper, Chandler Kinchla, the late Bobby Sheehan and Brendan Hill – gathered over 25 years ago in the basement of their drummer's parents' Princeton, NJ home and the seeds were born for a band who have released a total of 11 studio albums, four of which have gone gold, three platinum and one six-times platinum. Over the course of their illustrious career, Blues Traveler have sold more than 10 million combined units worldwide, played over 2,000 live shows in front of more than 30 million people, and, with "Run-Around," had the longest-charting radio single in Billboard history, which earned them a GRAMMY for Best Rock Performance by a Duo or Group with Vocals.
"We started this whole adventure as a team," says Brendan Hill. "We've taken every step of this as a group together, from the basement to moving to New York, getting signed, hiring a manager, to achieving all our goals." Legendary front man John Popper admits, "The way the songs have held up move me. We've really got nothing but love from our audience. If something has quality, it's constantly reconsidered through the ages."
From the suburbs of New Jersey, Blues Traveler moved to New York in the late 80's, where they became part of a jam-band scene that packed clubs like Nightingale's, McGovern's and Kenny's Castaways, where they would share the bill with Spin Doctors and Phish. The band's Four, released in 1994, was a watershed moment for the group, eventually selling more than six million albums on the strength of the singles "Run-Around" and "Hook." The band's next album, the now-platinum Straight on till Morning, released in 1997, produced the memorable "Carolina Blues," a longtime staple of Blues Traveler's live show.
2015 marks the 20th anniversary of their GRAMMY award and the release of a new exciting and dramatically different album, from a band that has learned to be ever-changing while sticking to the roots of who they are.
Tickets for this standing room only show go on sale this Friday, February 20 at 10 a.m. Tickets will be available for purchase at the Ponte Vedra Concert Hall and St. Augustine Amphitheatre Box Offices, ticketmaster.com, all Ticketmaster outlets and by phone at (800) 745-3000.
Related Articles