WORLD FAMOUS BUDWEISER CLYDESDALES AT ANHEUSER-BUSCH BREWERY
by 904 Newsroom
May 1, 2018
93 views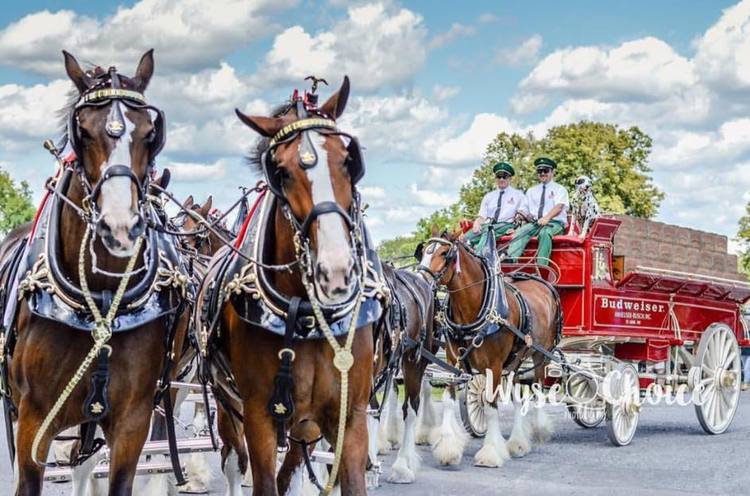 The Budweiser Clydesdales made their first-ever appearance on April 7, 1933. A gift from August A. Busch, Jr. and Adolphus Busch to their father in celebration of the repeal of Prohibition, the presentation of the original two six-horse hitches of champion Clydesdales moved father, sons and drivers to tears. The phrase "crying in your beer" was officially coined shortly thereafter.
More than 300 years ago, this imposing breed was first developed for farm work in the region of Clydesdale, Scotland. They are most easily recognized for their substantial feather — the long hairs of the lower leg that cover the hooves. Despite a dressy appearance, they are capable of pulling a 1-ton load at 5 MPH.
No strangers to television broadcasts and parades, the Budweiser Clydesdales have figured prominently in two Presidential inaugurations. They appeared in Missouri native Harry Truman's inaugural parade in 1949, and then again for Bill Clinton's in 1993.
In 1950, the Budweiser Clydesdales received their very own mascot: the Dalmatian. Traditionally used to guide horse-drawn fire carts, this spotted dog serves as friend and companion to the team, sitting aside the driver.
Clydesdale Meet and Greet
Hang out with the hitch and get your picture taken with these living legends!
May 1 - 2 Stable Viewing
10 am - 5 pm
May 3 - 4
10 am - 7 pm Stable Viewing
5 pm - 7 pm One Horse Appearance
May 5 - 6
10 am - 5 pm Stable Viewing
12 pm Full Hitch Appearance
They will have Clydesdale Camera Days May 3 - May 4 from 5 pm - 7 pm. Come get your photo taken with one of the world world famous beauties.
And don't forget to join us May 5 - May 6 from 12 pm - 2 pm for full Hitch days.
Related Articles