TaxSlayer Bowl Comes To Jacksonville This January
by Joseph Cartolano
December 9, 2019
288 views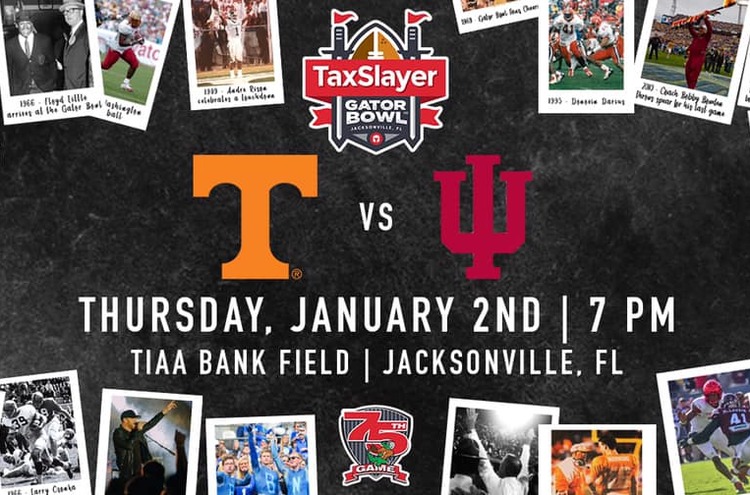 The 75th TaxSlayer Gator Bowl will feature Indiana University vs the University of Tennessee on Thursday January 2 at TIAA Bank Field The last meeting between these two teams in post season play was back in 1988 at the Peach Bowl.
"We are very excited to welcome Indiana and Tennessee to Jacksonville for the 75th Annual TaxSlayer Gator Bowl. It will be a tremendous match up and will be excited to host these two top-notch teams and their players, coaches and fans in Jacksonville for a great week of activities celebrating both programs' successful season" said Rich Thompson, Chairman of the TaxSlayer Gator Bowl.
Brian Rhodes, President and CEO, TaxSlayer says the team at TaxSlayer is looking forward to having Indiana and Tennessee join them in Jacksonville for this year's TaxSlayer Gator Bowl. He also says that they'll be at the center of an unforgettable event which will pay tribute to the rich tradition and 75 years of history which make up the iconic game.
The Tennessee Volunteers finished the season with a 7-5 record and will serve as the Southeastern Conference representative. They will be making their seventh appearance in the TaxSlayer Gator Bowl. Their last appearance was here in 2015 against the University of Iowa.
The Indiana Hoosiers, the Big Ten Conference representative finished their regular season with a record of 8-4. This will be their first appearance at the TaxSlayer Bowl.
Game begins at 7pm at TIAA Bank Field.
Related Articles