Spirit of Giving: First Wedensday Art Walk
by Joseph Cartolano
December 4, 2019
255 views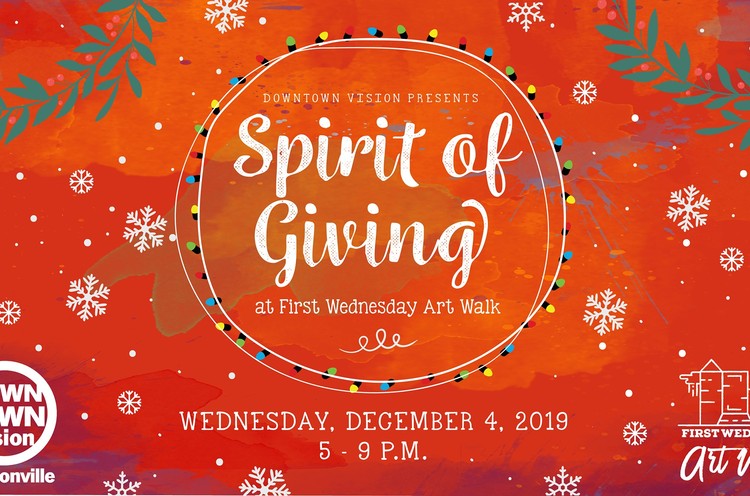 Celebrate the "Spirit of Giving" at Downtown Jacksonville Art Walk which also happens to be the perfect place for last minute, locally-sourced products! #ShopSmall this holiday season. Join us as we partner with the City of Jacksonville, Florida - Government to bring the annual Christmas Tree Lighting to Art Walk! Our spectacular 50 foot tree has been graciously donated by the Sleiman Family in honor of Eli Sr. and Josephine Sleiman. Our beautiful, energy efficient tree boasts 78,000 LED lights,150 ornaments and has been a staple in Downtown Jacksonville's holiday traditions for the last 32 years. Downtown Vision along with the City of Jacksonville thank the Sleiman Family and Sleiman Enterprises for allowing us to continue this jolly tradition.
HEADQUARTERS @ HEMMING
Enjoy a live performance by the Jacksonville Children's Chorus from 5:30-6 p.m. at the Main Stage. Don't miss the Christmas Tree Lighting with Mayor and Mrs. Curry at 6:25 p.m. Come up to Laura Street for holiday-themed dance performances from Dansations Performing Arts Center, Paradigm Flux Dance Company, Scott Jones School of Dance and Pine Forest Elementary School Dance Ensemble. And look out for Santa and Mrs. Claus as they stroll through Hemming Park!
#ShopSmall - Anactglobal, Cre8Jax, Artzy Fartzy Petz, The Bead Bowl, Alternate Bazaar Art, Moises Ramos, Handmade Ratan Bag, Kram Kran Photo, Tovah2Creations, Selahmon Jones, Interlace, Duval Finest, Creative Solutions Inc, CD Snowden Arts, The Bead Guy, Jennifer Mangaoang - Artist, Boho Babie Brand Lifestyle, Nani Mana Jewelry, Viktor Lazarev Art, Citizen Gem Jewelry, Unique Woodworks, Let's Paint Our Town, Global Bambini, Day1DayDreamer, Moonchild Studio, Belle Epoque Pottery, Blue Door Bodega, Eva's Entertainment,
Vagabond Flea @ Hogan St. - Check out this creatively curated market that features local artists, quality makers, upcyclers, vintage and antique sellers, and more on Hogan Street, south of Hemming Park.
Historic Stanton Open House - The Historic Stanton building is having an open house! Enjoy performances by local artists and historic displays from former Stanton College Preparatory School students along with light refreshments. The Open House will showcase the progress of the building restoration.
Businesses and Nonprofits - VyStar Credit Union, Jacksonville Transportation Authority (JTA), Florida Blue, Affordable Marijuana License, Animal Care & Protective Services, Neighborhood Office, The Brick Coffee House, Talecris Plasma Resources - Jacksonville, FL, First Coast Parkinson's Run, Northside Coalition, Pet Wants.
Food Trucks - Chubby Burrito, Fusion Food Truck, Hazelnut Grill LLC, Honey Dripper House, LLC, Humble Pie, Latin Soul Grille Food Truck, Son of a Butcher, Twisted Okie
Related Articles