O.A.R Returns to The Amp with American Authors & Huntertones
by Joseph Cartolano
June 10, 2019
89 views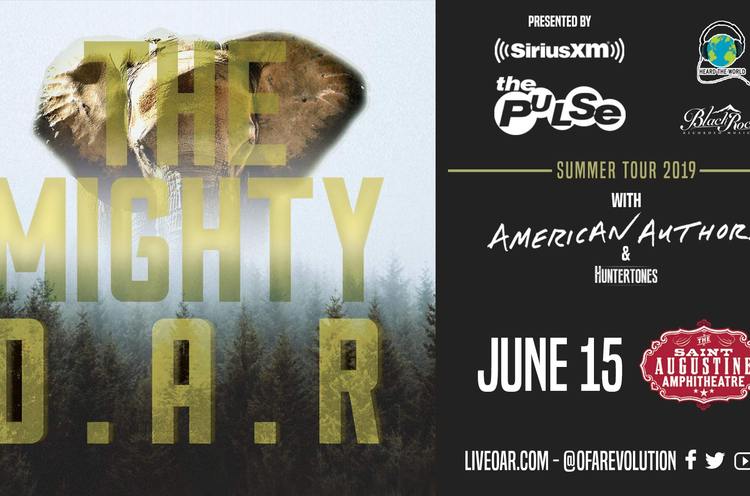 O.A.R is back in St. Augustine with their summer tour landing on June 15, this Saturday. Bringing along with the alternative pop rock veterans are American Authors and Huntertones.
Some things are built to last. During the course of its two decades of making records, O.A.R. — lead singer and primary songwriter Marc Roberge, drummer Chris Culos, guitarist Richard On, bassist Benj Gershman and saxophonist/guitarist Jerry DePizzo—has created and maintained a sort of a parallel universe. In effect hiding in plain sight from the world outside, the band fills arenas and amphitheaters as it crafts and releases relatable songs with big pop hooks, all of this activity going down completely apart from the mainstream. Within this universe, these songs are bona fide hits, and the band members are superstars.
O.A.R. first began to develop their unique sound while in high school in Rockville, Maryland. With three albums under their belt before they finished college, the band began pursuing their musical dreams full time in the summer of 2001. By the end of 2008, the band had released six studio albums and three live double disc CDs.
To date O.A.R. has sold close to 2 million albums and more than 2 million concert tickets, including two sold-out shows at New York City's Madison Square Garden and Red Rocks Amphitheater in Colorado. In 2011, the band released the album, King, which debuted at No. 12 on the Billboard 200 chart, No. 3 on the Billboard Digital Album Chart, and was No. 3 at iTunes. King was the follow-up to the band's 2008 release, All Sides, which contains the platinum hit single "Shattered." The band's album, The Rockville LP, debuted at #1 on the Billboard Independent Albums chart and #6 on the Top Current Rock Albums chart. Upon its release, The Rockville LP hit the top spot on the iTunes Rock Albums chart and #3 on iTunes Overall Albums chart. The album features the songs "Favorite Song", "Two Hands Up" and smash hit, "Peace".
O.A.R. has performed on such national TV shows as The Today Show, Live with Kelly and Michael, CONAN, and 2015 Special Olympics Opening Ceremony. In 2015, they performed in New York City's Times Square New Year's Eve Celebration to a live audience of over 1.5 million plus their concert was broadcast in a worldwide webcast reaching millions of fans!. 2016 marked the band's 20th anniversary with the release of their new album, XX; a career-spanning collection that shines a light on key moments from the band's illustrious career and features two new songs including the new single "I Go Through" which was written and recorded as the cameras rolled during the captivating six-part docu-series Evolution of a Song. O.A.R. is gearing up to release their ninth studio album, The Mighty, this Spring via RED MUSIC.
Tickets on sale now!
TICKETS:
$69.50 – Seated Pit
$64.00 – Level 100
$54.00 – Level 200 and Level 300
$44.00 – Obstructed View
Gates open at 6pm, with the show beginning at 7pm.
Related Articles