Murray HiIl's New Pizza Spot
by Joseph Cartolano
May 31, 2019
128 views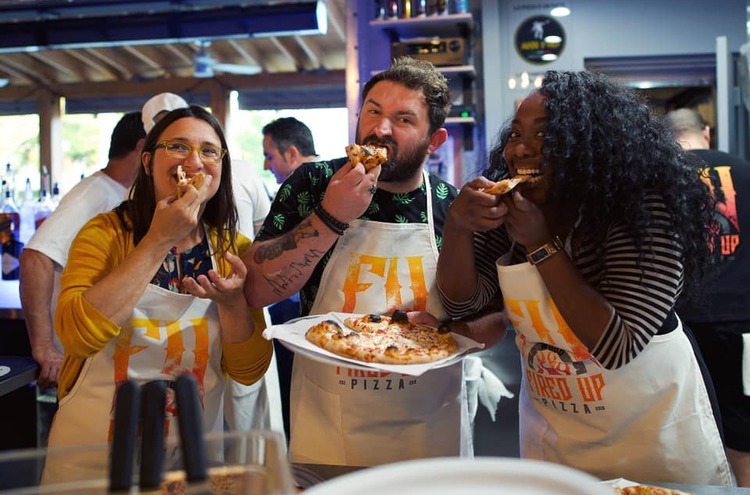 As you know, many Jacksonville residents are familiar with the home-grown sub chain Larry's Giant Subs, which has been serving New York-style sandwiches in seemingly every corner of Jacksonville since 1982. Throughout the years, the company has evolved with the opening of a hybrid concept store in the up-and-coming Murray Hill neighborhood that combines a Larry's Giant Subs, a full bar, and Fired Up Pizza: a wood-fired pizza parlor.
The pizza menu features 14-inch pies with prices ranging from $15-$19. Guests can create their own 10 or 14-inch pie, customizing with a wide array of proteins and veggies and topped with your choice of eight different kinds of cheeses. Patrons can upgrade to the slightly more expensive Mozzarella Di Bufala ($2.25 for 10-inch or $3.50 for 14-inch pies), a mild, creamy cheese that stays slightly chewy when exiting the 900-degree pizza oven.
This concept not only serves pizza but also introduces new sandwiches on the Fired Up side of the menu. Guests will get a taste of the new wood-fired oven sandwiches. They are more like pizza-dough paninis, and beg to be dunked in a side of marinara sauce. Come on out and grab a seat as this is a becoming one of Murray Hill's favorite food stops.
Happy Hour
Weekday 3-7pm
Half off beers and liquor drinks
25% off all appetizers
Related Articles