Little Big Town Coming To St Augustine Amitheatre
by Joseph Cartolano
April 30, 2015
77 views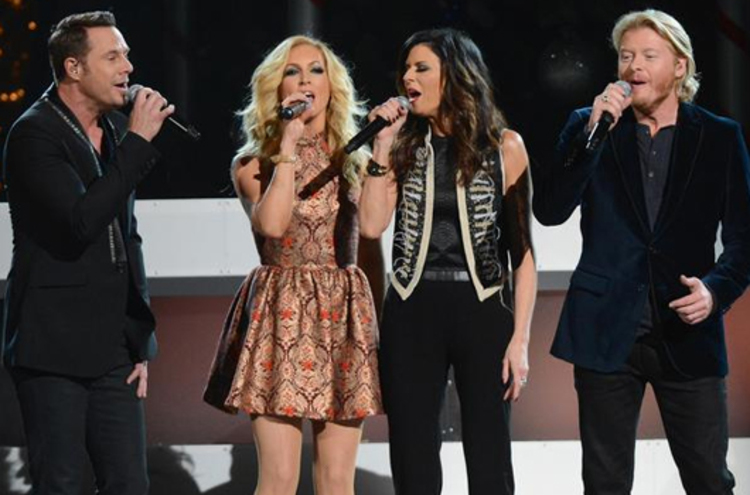 St. Augustine, Fla. (April 27, 2015) – The St. Augustine Amphitheatre proudly welcomes contemporary country quartet and 2015 ACM Awards Vocal Group of the Year, Little Big Town, on Saturday, October 17, 2015. Tickets will go on sale to the general public this Friday, May 1 at 10 a.m.
The country vocal quartet Little Big Town features Karen Fairchild, Phillip Sweet, Jimi Westbrook and Kimberly Schlapman. The quartet began with Kimberly and Karen, two Georgia natives who began singing together in college. Arkansas-born and Alabama-raised Jimi Westbrook, a friend of Fairchild's husband, joined them to make a trio, and the group was completed by the addition of Arkansan Phil Sweet in 1998. From the outset, Little Big Town devoted their sound to harmony and multiple lead vocals, a combination that made the band a hard sell at first. They finally landed a deal at Mercury Records, but it fell through due to disagreements about musical direction. In the wake of the success of the Dixie Chicks, however, Little Big Town were taken up by the Dixie Chicks' label, Monument Records in 2000 and Monument issued the band's debut single, "Don't Waste My Time," in the winter of 2002. The song was on its way up the charts when its accompanying album, Little Big Town, arrived in May. Although the debut produced several minor hits, Little Big Town didn't become a superstar act until 2005, when The Road to Here yielded four Top 20 singles (including the ballad "Bring It On Home") and earned the group its first platinum record. A Place to Land followed in 2007 and netted three singles. In August of 2010, Little Big Town's fourth studio album, The Reason Why, was released by Capitol. The band returned in 2012 with the single "Pontoon," which wound up topping Billboard's country charts. The band's fifth full-length album, Tornado, followed in September 2012 and it became their highest placed album on the Billboard 200 up to that point, reaching number two.
Hot on the heels of their wildly successful album Tornado, Little Big Town's prescription for continued success and creative drive is in their sixth album, Pain Killer. The two years since Tornado's release have proven to be the most formative and motivational for the inspired family of artists, together since 1998. In the short time since Tornado, Little Big Town earned two number one radio hits with Tornado and Pontoon, a GRAMMY, two Academy of County Music and three Country Music Association awards and an Emmy. They also found time to headline a sold-out tour, join Keith Urban across North America and host the CMA Music Festival: Country's Night to Rock twice.
New voices, including Ryan Tyndell, Blair Daly, Jeremy Spillman and Shane McAnally, joined long-term LBT collaborators, such as Hillary Lindsey, Liz Rose, Lori McKenna, Jedd Hughes and Natalie Hemby on the new record. As a result, Pain Killer covers all new territory for LBT. The band and its writing and production partners favored multi-layered effects and they drew from a mix of influences including vintage 50's country, 70's country, funk, groove, a cappella, bluegrass and straight up rock n' roll.
Tickets for Little Big Town go on sale this Friday, May 1 at 10am at the St. Augustine Amphitheatre and Ponte Vedra Concert Hall Box Offices. Save on fees by purchasing tickets at the St. Augustine Ampthitheatre Box Office, walk around the venue, scout your potential seat, and have first pick when the tickets go on sale at 10am. Tickets also will be available at ticketmaster.com, all TicketMaster outlets, or by phone at 800-745-3000.
Related Articles