First Wedensday Art Walk: Salute To Service
by Joseph Cartolano
November 4, 2019
56 views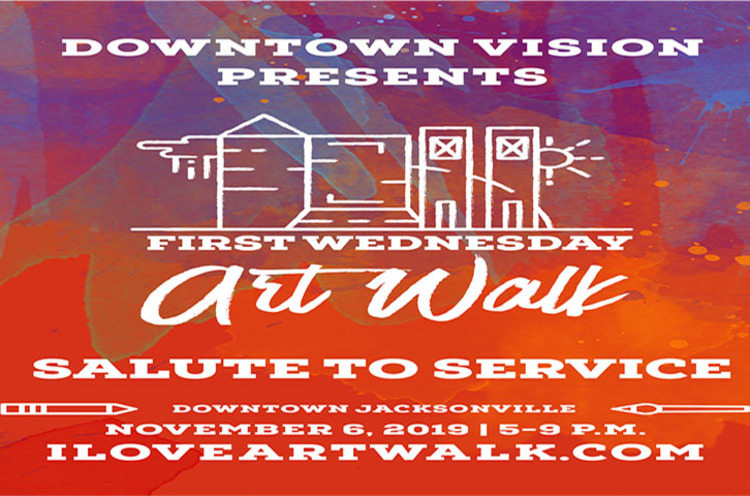 Maya Angelou said it right, "How important it is for us to recognize and celebrate our heroes!" This month's "Salute to Service" #ArtWalkJax is dedicated to all who served and continues serving.
Headquarters @ Hemming Park
Enjoy live music with Taylor Shami Music from 5-7 p.m. followed by Kalani Rose at 7:15 p.m.
Browse artwork - ABDUL, Artzy Fartzy Petz, Alternate Bazaar, Baliliving86, The Bead Bowl, Boho Babie Jewelry, Day1DayDreamer, Duvalz Finest, Dynasty II, Eva's Entertainment, House of Brushes, Kram Kran Photo, Let's Paint our Town, Melted Record Art Forms, Nani Mana Bracelets, ShopNetty, StenoTab, Tovah2Creations, Uniquewoodworks and Viktor Lazarev Arts.
Businesses and Nonprofits - K9 For Warriors, Northeast Florida Women Veterans, Wounded Warriors, Social Grounds Coffee Company, Animal Care and Protective Services, Affordable Marijuana License, Cathedral District Jacksonville, Crossroads Magic, DNP Cupcakery, Jacksonville Icemen, Jacksonville Transportation Authority, One Blood and VyStar Credit Union.
Kid Zone - Bring the kids to enjoy activities by My Gym and Jump 4 Jax.
Art Walk Beer Tent: Enjoy some patriotic brews provided by Veterans United Brewing Company.
LAURA STREET HAPPENINGS
Live Performances - By Dance Cypher happening in Food Truck Valley.
ART & CULTURE HIGHLIGHTS
El Día de los Muertos Celebración - Honor the dead by celebrating with the living on Adams Street. Check out beautiful ofrendas, performances by Sunshyne Zumba Group, major recording artist Agustin Toro, Ma Bones Book Readings by B.C. Hatch, Dia De Los Muertos Performers from Hamburger Mary's and a few other dance groups to come. Stop by to see the beautiful Mexican artisan decor, clothing, delicious pastries, tasty churros, and artisan ice cream.
Jacksonville Main Library - Don't miss the Naval Marching Band and Jazz band performing from 5-8:30.
Southlight Gallery - Discover the exhibit, "A Marriage of the Imagined and the Observed: a Husband and Wife Exhibition" featuring artists Christina Mastrangelo and Nicholas McNally. The bold, large-scale abstracts of M.J. Hinson also continue on display adjacent to the second floor gallery.
BUSINESS HIGHLIGHTS
Chamblin's Uptown - Browse works from local artists and enjoy a cup of coffee or a good book when you visit.
Hemming Plaza Jewelers - View local art work on the 2nd floor.
Hollywood Cuts - Check out local rappers at The Lyricist Live, an open-mic street cypher.
Regions Bank
Vagabond Coffee Co & Bodega - Discover DTJax's newest coffee and baked goods shop and host of the Vagabond Flea, a market featuring local up-cyclers, antique sellers and more.
Visit Jacksonville - Stop by for these great vendors and live music by Bethany Stockdale! Vendors include: teal Artist Patrick Winterbourne, Coolery Jewelry by Pam, Body & Soul, Anthony Danes & Misty Prince Jewelry, Tea Nation, The Art Corner, Rhashid Dukes and Reilly Edwards.
And stop by Wolf & Cub Boutique, Holiday Salon & Apothecary and Daniel James Salon for great gift options and more.
CULINARY HIGHLIGHTS
Bay Street Bar & Grill - Join us for Happy Hour from 2 - 7 p.m. with $1 off locally brewed drafts and if you're hungry, Wing Night kicks off at 7 p.m. with 50c wings! Bay Street will also be hosting Jacksonville Zombie Walk for a pre-brain snack and zombie-theme cocktails before zombies haunt the streets of DTJax.
Bellwether - Support local farms, breweries and bakeries by dining on timeless American cuisine.
Breezy Jazz Club - Stop by for the free wine tasting, stay for the live music and art vendors!
Food Truck Valley - Grab a bite and enjoy live acoustic from local Jacksonvillian, Ryan Campbell. Food truck lineup: Back to the Grind, Fusion Food Truck, Manny's Cuban Food Truck, Nitrogen Creamery, Son of a Butcher and Wurstbursters.
Gili's Kitchen - Can't go wrong with a fresh Mediterranean meal! Sit for awhile for live acoustic by Elly Ben Simon and don't forget the 10% discount on Art Walk nights.
Super Food and Brew - Join us for Happy Hour from 3-6pm with $4 drafts and $3 house wines. Stick around for an amazing live music set from 6-9pm with the amazing Chelsey Michelle Band. We also have a growing variety of local artists on display including Caroline Preston, Stephen Durden, Alex Henderson, River Dana and Rachel Porter. Stephen will also be holding a live art demonstration this month.
Sweet Pete's Candy
And check out these eateries for more delicious options: Burrito Gallery, Element Bistro Bar & Lounge, Peterbrooke Chocolatier, and Spliff's Gastropub.
ADAMS ST. EATS
Enjoy southern cuisine at Breezy Jazz Club, spicy Caribbean options from De Real Ting and a musical performance from Special Formula Band, fresh Mediterranean options at Gili's Kitchen or flavorful Asian meals Kazu Sushi Burrito. Pick up a flyer at any of these locations or at the Art Walk tent in Hemming Park for discounts and specials.
AFTER DARK HIGHLIGHTS
Myth Nightclub - Discover Silent Disco - Neon Garden Edition. Featuring over a dozen DJs on five different channels of music, several artist vendors, dance performances, and great food & drink specials all night long.
The Volstead - Indulge in Happy Hour from 4-7 p.m. and stick around for som tunes featuring Ya' Gozo The Latin Jazz Band from 9p.m.-midnight.
The party doesn't stop at 1904 Music Hall, Bold City Brewery, Dos Gatos, Element Bistro & Craft Bar, Island Girl Cigar Bar and The Justice Pub.
Related Articles