First Wedensday Art Walk: Folk Music Festival
by Joseph Cartolano
April 28, 2019
55 views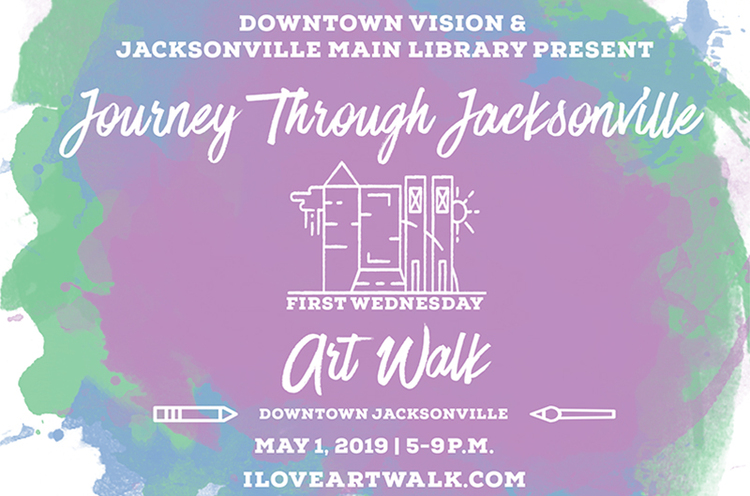 This Wednesday Join Jax Makerspace and Downtown Vision Inc at the first ever Folk Music Festival at Art Walk. Enjoy and experience performances from the musicians of North Florida Folk Network.
Headquarters In Hemming Park - Join us at the Main Stage in Hemming Park for the first ever Folk It Up Music Festival at Art Walk in partnership with the Jacksonville Public Library! Enjoy live music from Sweet as Folk, Shifty Gears, Old Dawgs New Trixx, Anne Mckennon & Wingo Johnson.
Browse artwork by ABDUL, Artzy Fartzy Petz, The Bead Bowl, Global Bambini, Let's Paint Our Town, Moonchild Studio, Tovah 2 Creations, The Turtle Guy and Viktor Lazarev. And don't miss these vendors and non-profit organizations: Affordable Marijuana License, Animal Care and Protective Services, Daniel Kids, MLG and Pet Wants. Plus, stop by the Friends of Hemming Park tent for refreshments and concessions, swag and to learn more about upcoming events in Jacksonville's most historic public space.
Kid Zone In Hemming Park - Bring the kids to enjoy magic by Crossroads Magic, activities by My Gym, jump-roping by Jump 4 Jax and games. Plus, check out Meredith Mae Mason from 6-8 p.m. at the Kids Zone.
ART & CULTURE HIGHLIGHTS
Jacksonville Main Library - Folk It Up music festival continues in the Jax Makerspace. Experience performances from My Monster Heart, Myrna Lyn, and Uncle Eddie & Robin.
Southlight Gallery - Check out the exhibit "Now & Then: Our 10 Year Journey Thru Downtown." The show highlights of Southlight Gallery's vision for its future as an advocate for Jacksonville art and artists. Explore both floors to view art work from old and current members including Kevin Arthur, John Bunker, Larry Davis, Jim Draper, Doug Eng, Renee Faure, Tom Hagar, Paul Karabinis, Paul Ladnier, Robert Leedy, Pete Petersen, Dee Roberts, Tom Schifanella, Jane Shirek, Jim Smith, Mac Truque, and Tonsenia Yonn.
MOCA Jacksonville & NOLA MOCA - Enjoy a screening of "El Desencanto," a performance by a Jacksonville Symphony ensemble from 6-7 p.m. in the Atrium Gallery and bring the kids to enjoy Art Fusion in the 5th-floor classrooms. Be sure to grab a bite from NOLA while you visit.
BUSINESS HIGHLIGHTS
Chamblin's Uptown - Browse works from local artists and enjoy a cup of coffee or a good book when you visit.
Dance Trance - Visit the 2nd-floor location inside Anytime Fitness and try out a Dance Trance class from 6-7 p.m.
Visit Jacksonville - Swing by and discover hand-made products and other pieces by Body & Soul, Anthony Danes and Misty Prince, Dawn's Magical & Whimsical Fairy Items, Patrick Winterbourne, Coolery Jewelery, Hurst Hives, Way of Life Wellness and Pixel Ken.
Hollywood Cuts - Check out local rappers at The Lyricist Live, an open-mic street cypher from 5-10 p.m.
CULINARY HIGHLIGHTS
Bellwether - Support local farms, breweries and bakeries by dining on timeless American cuisine.
Regions Bank Food Truck Valley - Devour delectable food from Blazin Azn, Nitrogen Creamery, Chubby Burrito, Twisted Okie, Son of a Butcher and Island Girl. Plus, don't miss a performance by Let's Ride Brass Band from 6-8 p.m.
Super Food and Brew - Enjoy live music by Random Tandem, works by artist Yaanco and happy hour from 3-6 p.m. Stick around for artisan food paired with great craft beer and wine specials all night long.
AFTER DARK HIGHLIGHTS
1904 Music Hall - Check out a performance by TAUK at 8:30 p.m. Tickets available at JaxLive.com.
Myth Nightclub - Don't miss out on Silent Disco: Black Light Edition featuring over a dozen DJs on five different music channels, artists, dance performances and specials all night long.
The Volstead - Enjoy happy hour from 4-7 p.m. and live music by Fun Sick Phony from 9 p.m.- 12 a.m.
Related Articles