Bold City Beer Festival Rescheduled For This Sunday
by Joseph Cartolano
September 16, 2019
57 views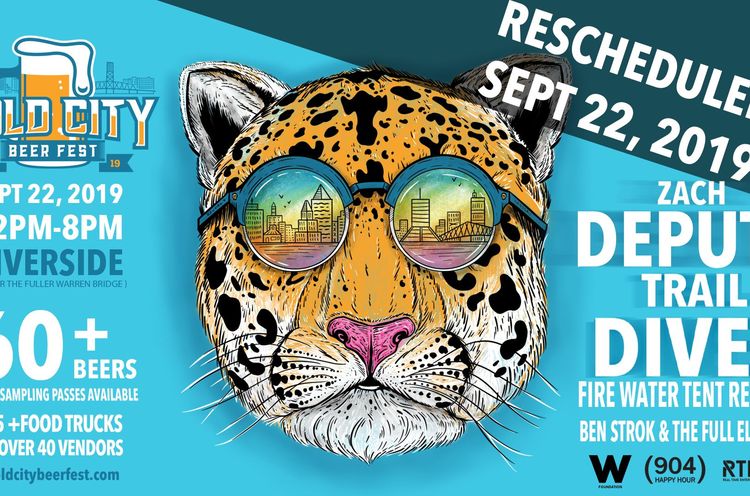 Next weekend, be sure to make plans to attend the Inaugural Bold City Festival, North Florida's Premier Beer, Music & Food Festival. The event will be held on September 22nd in Riverside at the Northbank Riverwalk Artist Square, located under the Fuller Warren Bridge.
Our headliner Zach Deputy will be there, plus performances by Firewater Tent Revival, Ben Strok & The full Electric, and Trail Diver. Unlike traditional beer festivals, sampling will be open to the public and available all day! The festival will offer over 65 different kinds of local and regional craft beers, as well as 15+ food trucks, vendors and makers.
Beer Vendors
Ancient City
Bold City Brew
Engine 15 Brewing
Engine 15 Cider
Green Room
Bud Light
Boulevard
Decadent Ales
Elysian
Evil Twin
Funky Buddha
Golden Road
Green Bench
Southern Tier
Cigar City
Goose Island Extended
New Holland
Omnipollo
Stillwater
Stoppling Goliath
Wicked Weed
Food trucks
Wurstbusters
Twisted Okie
The Butt Hutt Smokehouse
Manny's Cuban
Rocco's Pizza
Caribbean Sunrise
VUCCA
Island Girl Seafood
CackyLacky's
Nitrogen Creamery
Josie's Latin Fusion
Delish Kebabs
Pinegrove Deli
Chinchilla Eats On The Streets
Mama's Food
Funkadelic
Fusion
Saffron
Sweeto Burrito
Pet Wants
Tikiz Shaved Ice
Chaunie's Coffee
The 2019 Men's and Women's wing eating competition will be presented by Butt Hutt Food Truck. Ten male and female competitors will compete in two divisions to see which challenger will take home the trophy. The contest will be judged by 3 celebrity judges. The competitor who eats and cleans 10 wings plus 10 drumsticks the fastest wins! 2nd and 3rd place trophies will be awarded in both male and female contests.
Men's Division Time: 1pm
Women's Division Time: 2:30pm
To nominate yourself or a friend to be in this year's competition register online on boldcitybeerfestival.com
Jax Fray will be bringing a Cornhole Tournament to Bold City's Festival this year! The tournament kicks off at 1pm. For a limited time, signup for the tournament is $20 per team and includes a complimentary beer per person plus registration into the tournament. In addition, there will be $500 in cash and prizes plus trophies for the top three teams! Registration is limited to the first 100 teams! If your team is
registered for the tournament, please make sure to arrive at the festival between 12pm-1pm to check in at the Jax Fray tent prior to the tournament.
General admission is free. All guests will have access to the festival and availability to purchase individual beers and watch the concerts. For the full experience, a VIP pass is required. For VIP Passes, guests will receive unlimited beer & wine sampling from noon-8pm and No-wait sampling lines, reserved concert seating & viewing area, private air-conditioned restrooms, private bar, commemorative sampling mug, and more. There will be activities for all ages and even dogs are welcome.
For VIP Passes visit BoldCityBeerFest.com
Come out and have a great time at the Bold City Festival!
Related Articles