Adrian Legg & David Lindley Coming To The PV Concert Hall
by Charles Wagoner
May 12, 2015
111 views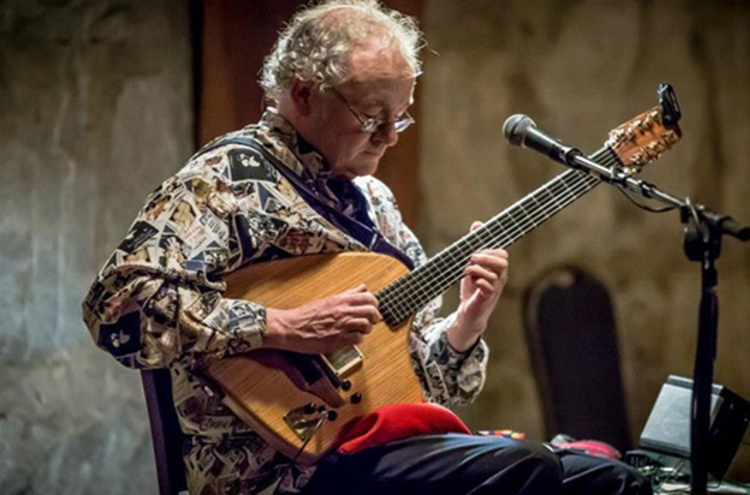 Ponte Vedra Beach, Fla. (May 12, 2015) — The Ponte Vedra Concert Hall proudly announces that renowned guitarist Adrian Legg and multi-instrumentalist David Lindley will perform on Thursday, November 12, 2015. Tickets for Adrian Legg and David Lindley will go on sale to the general public this Friday, May 15 at 10 a.m.
Renowned and awarded for his unique amalgamation of acoustic and electric guitar and how he blends diverse musical styles and inspirations into a distinctive sound all his own, Adrian Legg has been hailed as "one of the wizards" of the guitar (Philadelphia Enquirer) and "a genius" (Los Angeles Reader). In addition to his distinguished career as a live performer, recording artist and composer, he is an innovator in guitar design and amplification technology, an instructor, photographer, writer and author, witty and engaging between song onstage raconteur, and an at large commentator for National Public Radio's "All Things Considered," among other gifts, pursuits and interests. Hence it's no wonder that What's Up magazine hails London-born Legg as "the greatest British import since Newcastle Brown Ale." Born in 1948 in the London neighborhood of Hackney, the best way to come to understand the fullness of Legg's talent is to simply listen. "I'm a collision between European classicism and the American guitar," is how Legg encapsulates his music. "I make up tunes and play them on the guitar. On a good day people give me money for it." Legg has won numerous awards and accolades. The readers of the U.K.'s Guitarist magazine voted him Acoustic Guitarist of the Decade (1984-94), and in Guitar Player's readers' poll he was named Best Acoustic Fingerstylist for four years running (1993-96). Music critics reach for the thesaurus to try to describe him. "A guitarist of astonishing virtuosity, his imagination and melodic invention seem unbounded," raves Q magazine. "This man is ridiculously talented." Guitar icon Joe Satriani calls him as "simply the best acoustic guitar player I've ever heard."
Multi-instrumentalist David Lindley performs music that redefines the word "eclectic." Lindley, well known for his many years as the featured accompanist with Jackson Browne, and leader of his own band El Rayo-X, has long championed the concept of world music. The David Lindley electro-acoustic performance effortlessly combines American folk, blues, and bluegrass traditions with elements from African, Arabic, Asian, Celtic, Malagasy, and Turkish musical sources. Lindley incorporates an incredible array of stringed instruments including but not limited to Kona and Weissenborn Hawaiian lap steel guitar, Turkish saz and chumbus, Middle Eastern oud, and Irish bouzouki. The eye-poppingly clad "Mr. Dave's" uncanny vocal mimicry and demented sense of humor make his onstage banter a highlight of the show. Lindley grew up in southern California, first taking up the banjo as a teenager, and subsequently winning the annual Topanga canyon banjo and fiddle contest five times as he explored the American folk music tradition. Between 1967 and 1971 Lindley founded and lead the world music rock band, the Kaleidoscope. In 1971, Mr. Dave joined forces with Jackson Browne, serving as Jackson's most significant musical co-conspirator until 1981. In 1979, Lindley had begun working with old friend Ry Cooder on 'Bop Till you Drop' and 'The Long Riders' sound track, a musical collaboration that lasts to this day, and has spawned many recording projects and several world tours as an acoustic duo. In 1981, Lindley created his own remarkable Band El Rayo-X, which integrated American roots music and world beat with a heavy reggae influence. Throughout this long and distinguished career, Lindley has been one of Hollywood's most in demand session musicians, lending his skills to the recorded works of Bob Dylan, Rod Stewart, Linda Ronstadt, Crosby and Nash, Warren Zevon, and many others.
Tickets for this seated show go on sale this Friday, May 15 at 10 a.m. Tickets will be available for purchase at the Ponte Vedra Concert Hall and St. Augustine Amphitheatre Box Offices, ticketmaster.com, all Ticketmaster outlets and by phone at (800) 745-3000.
Related Articles