3 Story Lines Going into Jaguars Training Camp
by Wale Olaogun
July 24, 2014
51 views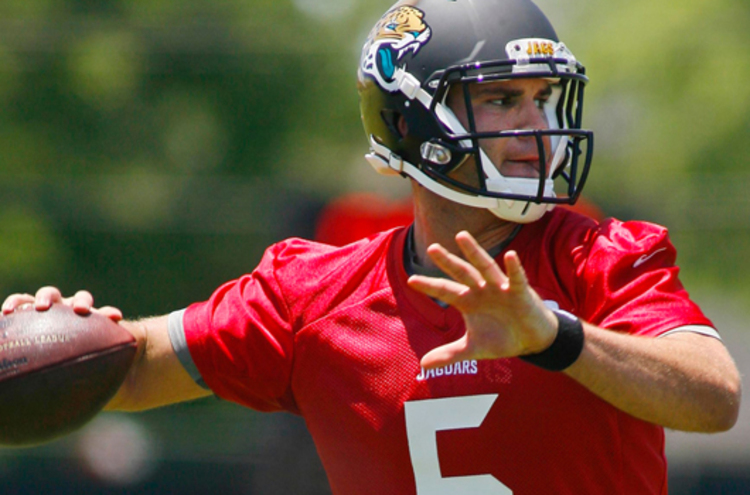 It's about that time again where coolers and tailgate gear gets busted out of the garage, jerseys and hats get washed, and folks prepare to say goodbye to their significant others because the glory of the NFL is almost back! We're headed into training camp and the Jacksonville Jaguars, by all accounts, have had a fantastic off-season. A lot of change has happened with this team and there is a buzz about this team that hasn't been felt in a long time. The city is ready to fall in love with the Jaguars again, from all of the stadium upgrades to the positive things the team is doing in the community and the only thing that's missing a competitive product on the field.
To help you get amped up for training camp and for those who haven't paid attention to any of the off-season stuff, here's the 3 storylines to follow during camp:
Photo Courtesy: Phil Sears - USA TODAY
1. Blake Bortles Development
When a player is drafted in the top 10 of the NFL Draft, it's expected that the rookie is going to produce for a team and right away. Even more so when that player is a quarterback. But GM David Caldwell is taking a different approach when it comes to rookie QB Blake Bortles. It has been said that Bortles has all of the tools to become an elite QB in the league, but he also is very raw and would benefit from sitting and learning from veteran QB. I've always felt that playing the rookie and giving him a chance to compete is the best way to go, but I tend to side with the direction the team has chosen, which is to sit the rookie as long as possible. With veteran QB Chad Henne being at least more capable of running this team than a certain QB who got shipped to the West Coast earlier in the year, Bortles has a strong chance to be successful by not being forced into duty too soon.
With all of that said, watching Bortles progress during training camp should be something to keep an eye on. He fits offensive coordinator Jedd Fisch's system well, has a familiarity with one of his teammates from college (running back Storm Johnson), and will have some weapons in the passing game with fellow rookies Allen Robinson and Marquis Lee.
Photo Courtesy: Sam Greenwood - Getty Images
2. O-Line Structure
This year has been considered a year of change in regards to the look and structure of this team and the offensive line is no different. 2nd year left tackle Luke Joeckel appears to be ready to be the anchor on the left side, along with free-agent pickup Zane Beadles. Longtime center Brad Meester is retired and that spot is wide open with competition coming from 3rd year player Mike Brewster, Drew Nowak, or 6th round pick Luke Bowanko. The right guard spot is 3rd round pick Brandon Linder's job to lose and the right tackle spot appears to be penciled in for Austin Pasztor, who played very well in the starting spot last year. Not only is there not a lot of depth on that line, it's also very inexperienced so it's critical that those who win the starting spots mesh quickly.
3. D-Line Remodeling
I don't think I've ever seen a defensive line overhaul like the one the Jags did during free agency and the draft. After signing Sen'Derrick Marks to a well-deserved contract extension, the front office then goes and signs former Pittsburgh Steeler defensive tackle Ziggy Hood, adds former Seahawks Red Bryant and Chris Clemons, and adds an additional "LEO" with the 5th round pick of Chris Smith. Add what DE Ryan Davis and Andre "Windmill" Branch did towards the end of last season and you have a reason to believe that this defensive line could really be the strong point of this team.
Read more and keep up with Wale at: http://themcwale.com/2014/07/22/jags_training_camp/
Related Articles