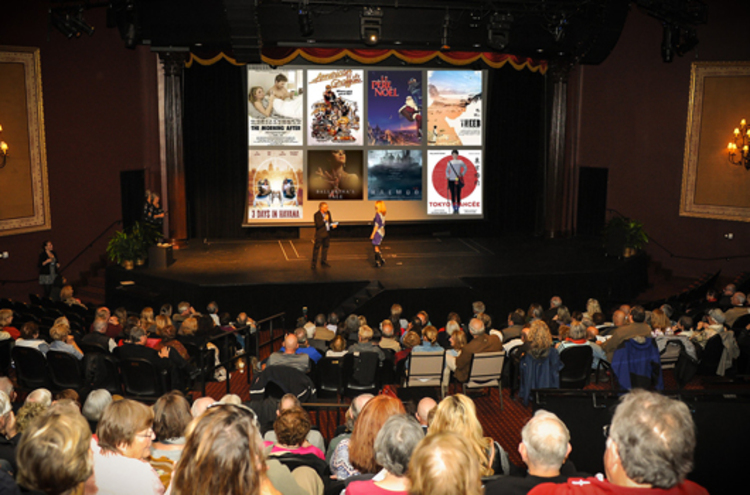 The St. Augustine Film Festival is January 29 – 31 and features 35 films. Films will be shown on three screens at The Corazon Theatre, the Gamache-Koger Theatre, and Lewis Auditorium (Flagler College). This year, two of the films playing are Oscar nominees! "THEEB" was nominated for Best Foreign Picture and "CHAU" was nominated for Best Short Documentary.
The Opening Gala is Friday night at the Lightner Museum with a Cocktail Hour followed by the Gala Dinner and Dance. You must have a all access pass to attend
Saturday Night, there will be a party held at Centro Restaurantlocated on the Plaza de la Constitucion. The is open to anyone with festival passes or a ticket stub from Saturday's films.
Sunday Nights' Closing Gala will be at the Flagler College Solarium. The party follows the Closing Night Film, which begins at 5:30 p.m. at Lewis Auditorium. It is open to all Film Plus and All-Access Pass Holders.
Times, Events and Screenings
FRIDAY, JANUARY 29
11am LIBERATORS: Why We Fought - C3
11:15 A TREE WITHOUT ROOTS - C1
12:45 unmappable C3
1:00 LOST & FOUND - C1
3:15 CASSANOVA WAS A WOMAN - C1
3:30 CHAU beyond THE LINES - C3
4:15 TIME SIMPLY PASSES - C3
6:00 FLAGLER COLLEGE STUDENT FILMS
*FREE Screening
6:00 Wine & Hors d'oeuvres -
at the *Ligtner Museum
6:30 THE RACE - LA
7:30 LE PERE NOEL - LA
9:00 Opening Night Party - Lightner
9:15 HAEMOO - LA
SATURDAY, JANUARY 30
10:15 TREBLINKA'S LAST WITNESS - C1
10:30 SILVER SKIES- LA
10:30 BETIBU - C2
10:30 THE SECRET OF ITALIA - GK
10:45 THE ANTHROPOLOGIST - C3
1:00 NEVER THE SAME - LA
1:00 BOCCACCERIAS HABANERAS - C1
1:00 BOCCACCERIAS HABANERIAS - C2
1:00 BACK IN TIME - GK
1:15 LOOK AGAIN - C3
3:00 THEEB - LA
3:30 CASESE QUIEN PUEDA - C1
3:30 THE MORNING AFTER - C3
3:30 LE PERE NOEL - GK
5:30 CASESE QUIEN PUEDA - GK
5:45 WHEN VOICES MEET - LA
5:45 A TREE WITHOUT ROOTS - C3
6:00 HAEMOO - C1
7:45 BATTLE FOR THE BARRIERS - C3
8:00 3 DAYS IN HAVANA - LA
9:30 SNARKY PUPPY FAMILY DINNER VOL TWO - LA
9:30 Saturday Night Party - Centro
SUNDAY, JANUARY 31
10:15 THE SECRET OF ITALIA - GK
10:30 THE WONDERS -LA
11:00 THE PENGUIN COUNTERS C3
12:45 NOS FEMMES - GK
1:00 A BALLERINA'S TALE - LA
1:00 REQUIEM FOR THE MAN WHO WANTED TOO MUCH - C3
1:15 APPLES FROM THE DESERT - C1
1:15 APPLES FROM THE DESERT - C2
3:15 AMERICAN GRAFFITI - LA
3:45 TBA - C1
3:45 3RD ST BLACKOUT - C3
6:00 TOKYO FIANCEE - LA
7:45 Wrap Party - The Solarium
Related Articles